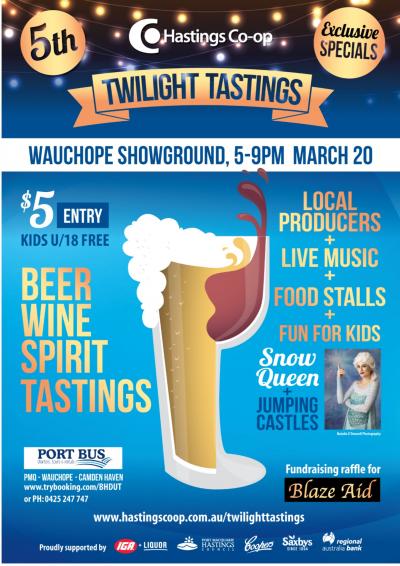 Twilight Tastings returns on March 20 for its fifth year, and it is set to be the biggest yet, with a record number of exhibitors and new entertainment.
The popular annual event brings together beer, wine, spirits and food, with a focus on showcasing local producers.
Wauchope Showground will come alive with fun, food, drinks and live entertainment in a relaxed, family-friendly environment. It's all about locals coming together to try something new, chatting with producers and enjoying exclusive deals - and entry is still only $5 for adults and free for U18s.
Visitors will have the opportunity to jump on a Port Bus from Port Macquarie or the Camden Haven. Visit this link for bookings - www.trybooking.com./BHDUT
Entertainment
The Burning Sands
Drew Yeo and Xavier Dancet
The Snow Queen
Jumping castles
Face painting
Learn with horses
Stall holders (as at Feb 24, 2020)
Bago Bluff condiments
Wauchope IGA Deli
Off the Rayles
Two Triple Four by Bills (restaurant)
Fudge and Candy Retro Van
Coopers beer
Diageo Australia
Saxbys soft drinks
Bucket Brewery
Donarch Fine Chocolate
Timbertown Wines
The Market Grocers
Vickers Fudge
Asahi beer
Moorebeer Brewing Co.
Bago Vineyards
Brooklyn's Coffee Cart
Wicked Elf Beer
Cassegrain Wines
Lion Co. (beers)
Amore Pasta
Comboyne Thai
Vok beverages
Gourmet Taste Sensations
Port Ice Creams
Stay Grounded Coffee Van
XS Foods
Go Nutz Doughnuts
Amber Honey
Oxhill Organics
Ewetopia Farm
Angove Family Winemakers
De Bortoli Wines
Australian Vintage Wines - McGuigan and Tempus Two
Vintage House Wine and Spirits
Accolade Wines
Wauchope Lions Club Inc BBQ
Wauchope Rotary Club food stall
Pit Fire Boys
Tamburlaine Organic Wines
Hot 'N' Tasty 4U
Noots Mushrooms
Coal N Steel woodfire pizzas
Coal N Steel Fresh
doTerra essential oils
Sonia Bowers Giftware
Hastings Valley Apiaries
Fred and Rosemary Sidler fresh produce
Tropical Sno
Mountain Goat Soap
Wauchope Hospital Auxiliary plants and craft
Wauchope Historical Society
Wauchope MOTOFEST
Lasiandra Festival (cow pat raffle tickets)
Port Macquarie Hastings Council
Special thanks to our supporters and business partners - Regional Australia Bank, Port Macquarie Hastings Council, Saxbys, Coopers Beer, ALM Liquor and Port Bus.